Keeping up with the healthy theme this blog has been going through recently, it's only appropriate to continue it methinks, especially as I have a lush recipe that I am excited to share with you today. Not only is this recipe fun to put together, it is colourful and delicious! Plus it's really good diet food!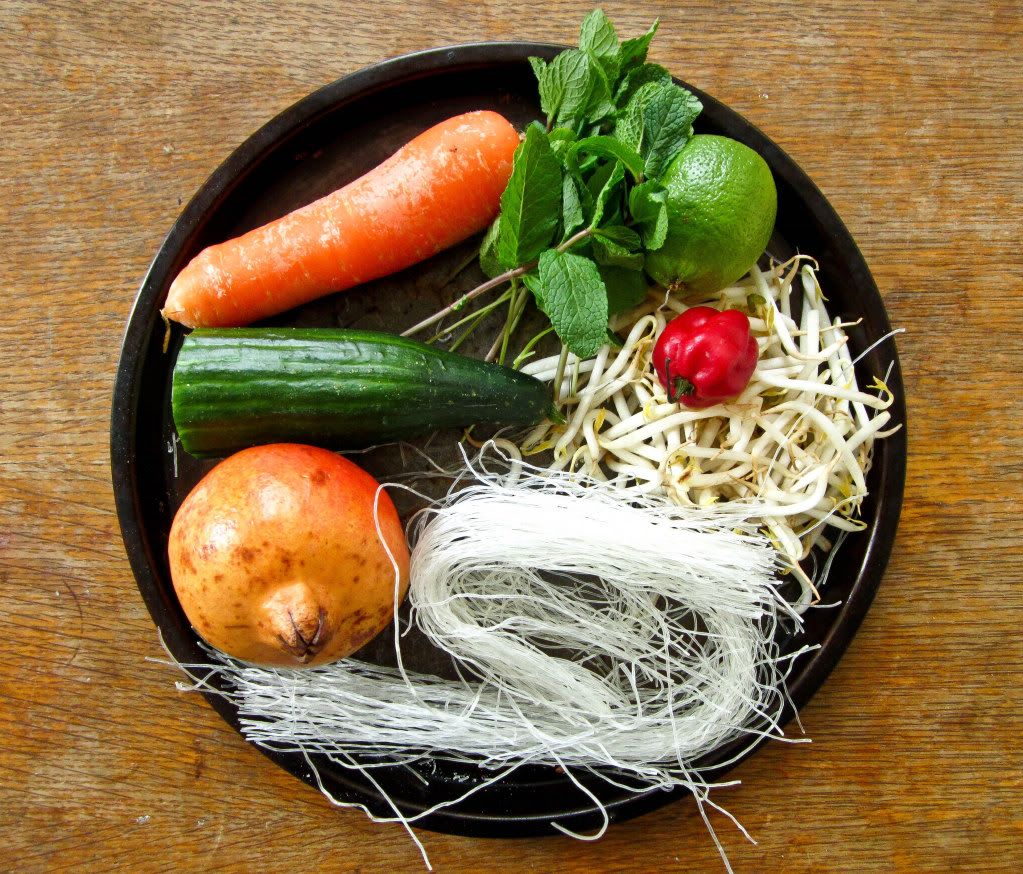 Colourful ingredients - my favourite!
Vietnamese rice-noodle salad is pretty much a staple in every Vietnamese restaurant and is normally served with slices or skewers of chicken or pork, and sometimes, if you're lucky with crispy spring rolls. My version however is a vegetarian one, and don't let that put you off because this is one heck of a delicious bowl of noodles and salad! Just think of a light refreshing salad and rice noodles, bathed in a flavourful Vietnamese sauce that is sweet, salty and sour and spicy all at the same time.
I also added pomegranate seeds which add a bit of a crunch, but this is entirely optional!
Speaking of being healthy and diet food, Bodytrim is a company that is currently in the market that targets individual who want to lose weight quickly. The products offered helps with weight loss by eliminating cravings (don't we just hate random cravings for the most unhealthy food!), which allows one to discover how to lose weight fast. What differentiates this company from any other weight loss company is that this weight loss method is designed to be maintain for a lifetime. When you sign up, you get a kit which includes information on the weight loss as well as 150 delicious looking recipes such as lamb shank on tomatoes and capsicum, butter chicken with spinach, caramelised banana tart with honey cinnamon ice cream and scallops with asparagus and mushroom.
Basically Bodytrim advocates a lifestyle change which is designed to work around your current lifestyle. So if you're interested, hop on over to their website at http://www.bodytrim.com.au
Vietnamese Rice-Noodle Salad
Serves 2
Ingredients
2 carrots, shredded
Cucumber, shredded
Beansprouts
Rice noodles/vermicelli
Mint leaves
Basil, optional
Chilli, birds eye or any chilli of your choice
Pomegranate seeds
Sauce


Sugar
Water
Rice vinegar
2 tbsp fish sauce
Minced garlic
Chili pepper
Lime, juiced
Method
Soak rice noodles/vermicelli in hot water for a few minutes until hydrated.
Remove and drain and place at the bottom of a bowl.
Add the shredded cucumber, carrot, beansprouts, mint and basil leaves, pomegranate and diced chillies.
Mix the ingredients for the sauce in a separate bowl. I have not included the measurements for the ingredients so you can adjust it to suit your taste preference.
Pour a few tablespoons of the sauce over the noodles and vegetables and mix.

Enjoy immediately!